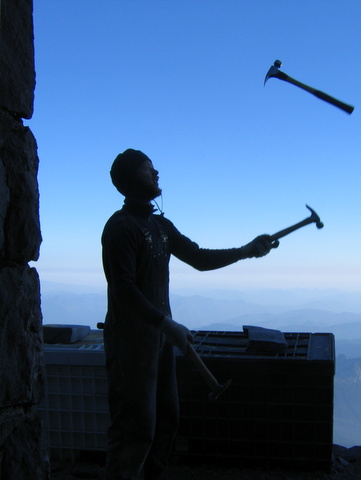 Quercus House Craft got its start as a way for me to work on smaller projects between my jobs as a lead carpenter and project manager for a great design-build company. I wanted to work the seam of projects that run smoothest when done by one skilled tradesman from conception to finish, occasionally with the help of a specialist or two. My jobs range from repairing and remaking wooden window sash to building custom furniture to remodels of bathrooms and kitchens. I have a special love for slightly out of the ordinary projects- building a duck house, or integrating wood, tile, and steel, for example.
I have been working on houses since 2001, when I worked as a carpenter through my last year of college. I then bought a neglected craftsman house in Central Washington state, and set about teaching myself how to rebuild or fix what needed fixing. When my wife Tara decided to get her Ph.D from UC Berkeley, I became a carpenter full time. Over the last 8 years working in Berkeley and Oakland, I have led projects from bathroom remodels to whole house remodels/additions taking well over a year.
Before turning my focus to carpentry, I worked in the backcountry and wilderness. As a teenager, I worked summers as a Wilderness ranger in the North Cascades. I learned to enjoy long stretches of working alone, and to value mental and material preparation. I later transitioned to trail building and maintaining- I loved the long days of grueling work, and especially the focus and thoughtfulness required to approach a complex logjam over the trail, and systematically remove it using only the few tools carried on my back, without getting a saw stuck or a leg pinched between falling logs.
After years of working on trails and trail structures, I graduated to building suspension and cable-stayed bridges, still mostly in the backcountry. The resourcefulness needed to work in the backcountry was even more necessary when the job involved spanning hundreds of feet across a stream far below, working weeks on end in a climbing harness assembling a steel bridge. The clean forms of suspension bridges still inform my aesthetic sense, the way that form follows function, and the well crafted structure is beautiful in itself without adornment.
For two summers I led a crew of stonemasons restoring Camp Muir, a climber's camp high on Mt. Rainier, as well as another historic structure in Mt. Rainier National Park. It was a wonderful challenge to build with the quality to honor the historic structures I worked on, and to endure in the harsh environment. My time working in the backcountry made me specialize in being a generalist: with limited resources, time, and tools, to do the work efficiently and to the highest quality possible. While there are many great new tools, techniques, and materials, there are also valuable and appropriate techniques and materials that are almost forgotten because using them requires time, care and skill. I aim to blend old and new in a way tailored to each job.